I took more than 7000 photos during 2013. Most of them were while I was at the football. Almost all were rubbish.
But amongst all the dross I did manage to squeeze out a few decent shots. During my holiday down time I skimmed through my efforts and pulled out the best thirty.
Here's the final part of the trilogy. These photos come with a heavy WaiBOP United focus, which is not surprising given my involvement with that franchise this season.
Each photo comes with a little story that helps define my 2013 season.
[Click on the photos to view at full size.]
21. Surrounded: this pic pretty much sums up the way Waitakere City snuffed out Melville United's Chatham Cup run in the semi-finals. It was good fun while it lasted.
22. Grinners are winners: coaching my boys was one of the highlights of my season. The smiles alone were reward enough.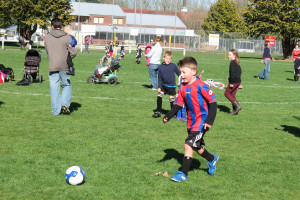 23. The Godfather: Enzo Giordani leads the way for football blogging in NZ. His site is well established, consistently updated and, most importantly, loaded with top quality content. I can't wait to see what my favourite Roma fan comes up with in 2014.
24. Roto-Vegas: Rotorua International Stadium is one of the best mid-sized sports grounds in the country. It was great to get a behind-the-scenes look at how a top level game runs when the Phoenix and NZ 'A' visited at the end of September.
25. I can fly: it's not often you see a footballer nearly horizontal when competing for a header. This pic was taken at the WaiBOP United v Hawke's Bay United pre-season friendly, which was played at Taupo's Crown Park.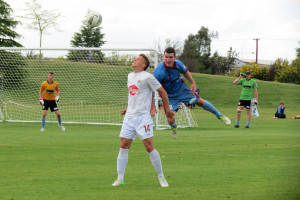 26. We have fans!: I travelled with some of WaiBOP United's players to Rotorua's Otonga Primary School a couple of days before the team's opening ASB Premiership match. They were mobbed. Just about anything that could be signed was signed. I'm guessing there would have been a few unhappy Mums that evening…
27. I see you: my family have travelled to almost all of WaiBOP United's games this season. They seem to be enjoying it so far, particularly Theo, my youngest. The brainwashing continues…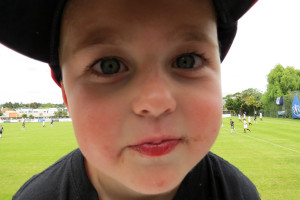 28. They want to play where?: when we announced Cambridge's John Kerkhof Park as the home venue for WaiBOP United there were more than a few eyebrows raised. After two games the move has already proved to be a sensible decision. That was achieved with a fair amount of stress and sleepless nights, particularly ahead of the first game against Hawke's Bay United.
29. Hello? Is anyone there?: 22,000 empty seats turned up to watch Wanderers SC play WaiBOP United in their ASB Premiership match. By the time the match got underway, however, a few people were present. In fact, twice as many people turned out than were at WaiBOP's match at defending champs, Waitakere United, a fortnight later.
30. Squish: it's always fun to get a shot of a football moulding itself around a player's head. Here WaiBOP United's Takahiro Yokota deals to the shiny white Nike sphere.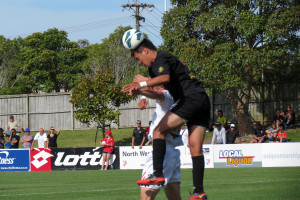 Click here for part 1. Click here for part 2.
That's it for my final, space-filling, post referencing 2013.
The New Year as begun positively with the Phoenix recording a great away win in Sydney on New Year's Day then Spurs won at Old Trafford. I can only hope things continue in similar vein for the rest of the year.
And I hope I can fire off a few more decent football pics as well.