The Pilgrimage (Part 2) – 07 & 08/10/2017
Theo and I spent last weekend in Ireland with ex-Swift, Marcus Woods, and his family and, as you'd expect, our time in the Emerald Isle was full of football.
We arrived at Dublin airport on the Friday afternoon and were met by Marcus and his son, Daniel. Theo and Daniel are the same age and hit it off immediately…almost too well and too quickly!
It was great to see Marcus again after 19 years. He and fellow countryman Sammy Smith spent the 1998 season playing (and seriously playing up) for the Swifts and on our drive up to Warrenpoint, which is just over the border in the north, we chatted away as if we'd seen each other only 19 days ago.
After dinner Theo and Daniel spent an hour or so at the local 3G pitch with 30-odd local kids and we also met Dominic, the coach of Daniel's U-9 team who were playing the next day. Theo was told to find a pair of boots and get ready to join the squad. I was also shown around Warrenpoint's ground, which was right next door to the 3G, and given a current playing shirt (Warrenpoint play in Northern Ireland's top flight).
Saturday was all about round ball football. Theo had a good run out for Warrenpoint U-9s, who won 9-0, and he looked comfortable enough. By the end he was taking as many set-pieces as he could, not least I'm guessing because all the regular players probably wanted to get themselves closer to their opponents' goal to help themselves.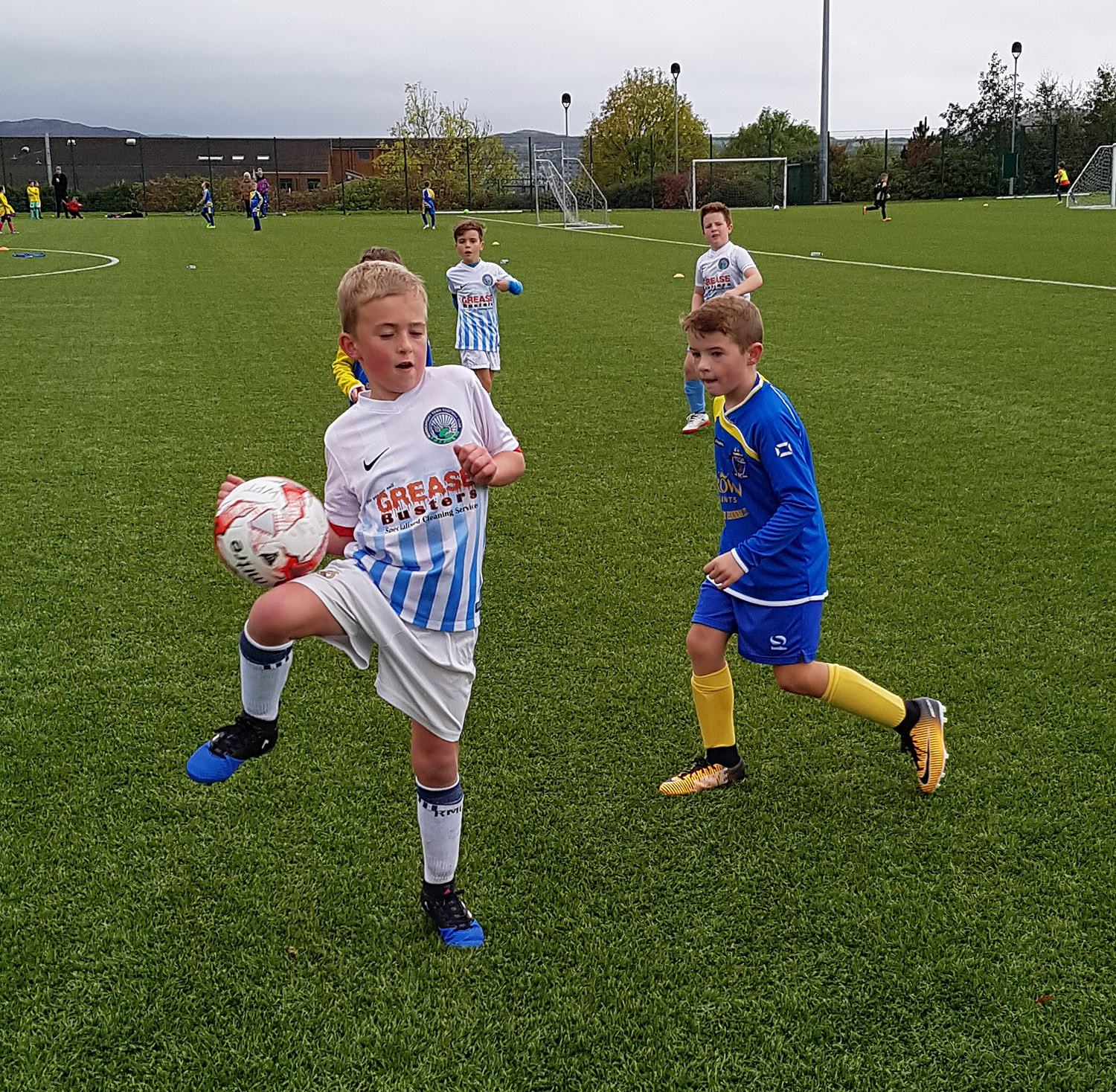 Once this game was over the four of us grabbed some food then shot up the road to Armagh where the team Marcus coaches, Newry-based Windmill Stars, were playing a 'home' game. Armagh's a few miles from Newry but Windmill Stars don't yet have the facilities available to play at the level they're at so had to relocate for a while.
As it turned out, Marcus was serving the first game of a two game suspension (something to do with commenting on a referee's performance the previous weekend…) so we'd end up in the stands watching the game together.
The two boys and I knocked the ball around on the pitch as Marcus did all his pre-match stuff. The surface was another 3G set-up, which helped make me look a little less bad than I actually am as I zipped a few balls past a couple of eight year olds and into the net.
Theo and Daniel were on mascot duties so led the team out, before we settled in to watch the game.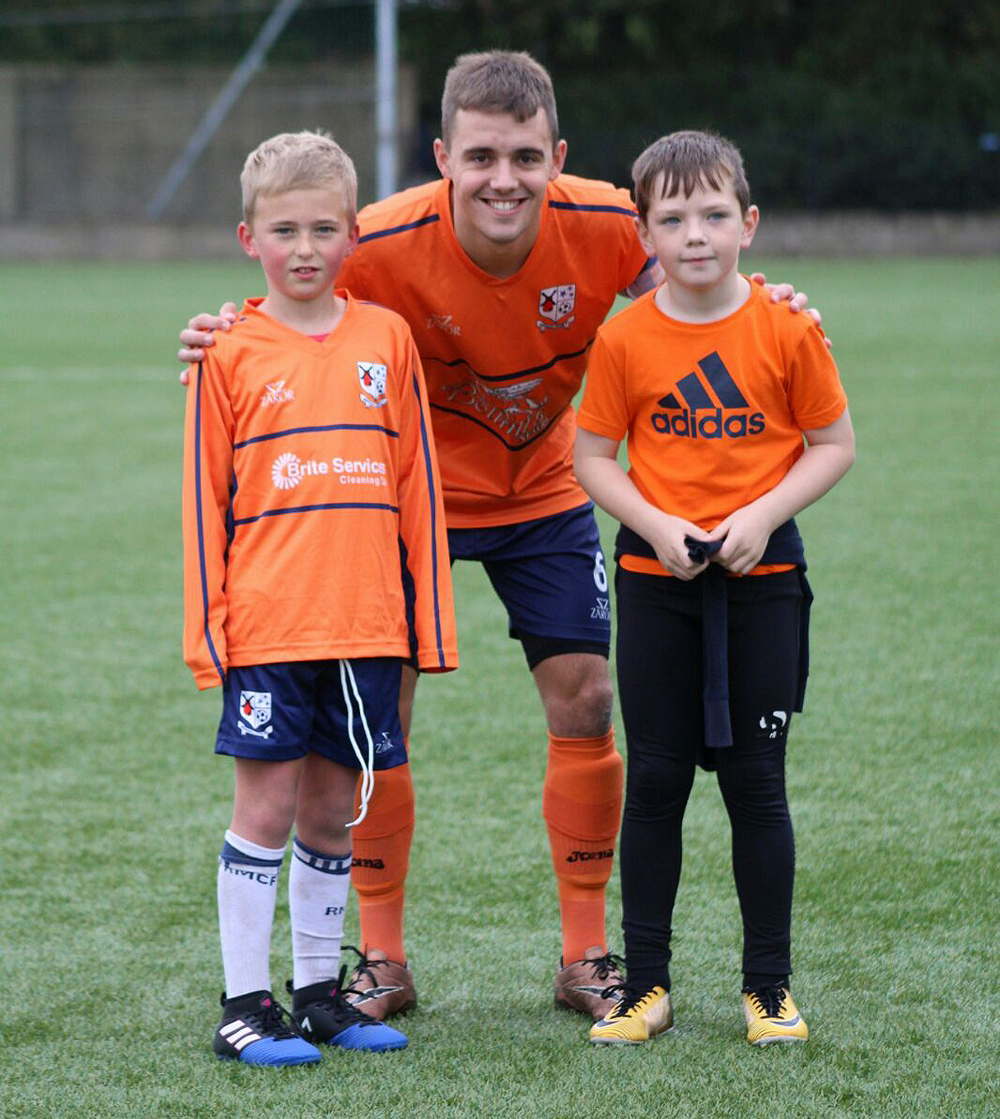 It was fast and furious as the two sides went full throttle. The game was actually a league cup clash against a side from the same league as Windmill Stars. Marcus had a few players out due to clashes with Gaelic Football, a family death and injuries so his team wasn't at full strength but he still expected to win.
Things didn't go according to plan. The visitors led at the break, although Windmills Stars hit the woodwork twice, then doubled their lead midway through the second half. They scored their third near the end – a strike from a long way out over a keeper who had pushed himself well outside his box. There was some consolation as the hosts scored with nearly the last kick of the game. It did look a fair way off-side though. I reckon Windmill Stars could have used a Chris Walker or a Dayne Willemsen.
So Marcus was left with lots to think about as we headed home.
My impression of the match was the football was quicker than what the Swifts play back at home, but probably a bit too rushed. It was physical and a style that led to lots of errors as the teams did their best to batter each other. There was a pretty bad injury to one of Windmill Stars' centre halves – he was helped off with a bloody cut under his knee cap that required plenty of stitches. He reckons he'll be back next week…
It was all a pretty good watch though.
On the Sunday we had a little insight into the other local form of football – Gaelic. It seems many kids and, obviously, adults, play both forms of football and Gaelic certainly holds sway. In a sense like rugby does at home, but with a bit more class.
Daniel's team had their end-of-season presentation in the morning so we went up to Warrenpoint's ground for a kick. Theo joined in and was soon displaying his superior punting skills learned, no doubt, on the playing fields of Matamata Primary.
In the afternoon we headed into Newry to watch the Intermediate Cup final between Rostrevor and Annaclone, two sides from county Down.
The boys in the pub the night before had told me the two sides hated each other so we'd be expecting fireworks. It is, after all, an aggressive game. There was a bit of biff. There was also a fair bit of running and scrapping and shooting…but often the radars were a bit off.
The quality, I was told, wasn't great but it sure looked pretty intense.
Rostrevor, the favourites, won 1.10 to 1.06 (basically 13 : 9 – the 1, which refers to goals scored in the net at the bottom section between the uprights, gives you 3 points. A score over the cross bar and between the uprights is worth just the one point. Got it?).
On the Monday we headed up to Belfast for a look around. Included among the sightseeing were flying visits to the grounds of Premier League clubs Cliftonville, Crusaders and Linfield (Windsor Park – which also doubles as the home of Northern Ireland's national team).
And on the Tuesday, before we flew out of Dublin, we poked our noses in a Croke Park, the monstrous home of Gaelic Football.
It would be fair to say we gained a great insight into Irish football in such a short time. But the highlight for me was watching Theo gain a new friend through football in the same way I gained one 19 years ago.