I took more than 7000 photos during 2013. Most of them were while I was at the football. Almost all were rubbish.
But amongst all the dross I did manage to squeeze out a few decent shots. During my holiday down time I skimmed through my efforts and pulled out the best thirty.
Why thirty? It's a good round number and lets me put up three blog posts with ten photos in each. As any blogger will tell you, the more posts you can get up the better. So it lets me cheat as well. But in a good way.
Each photo comes with a little story that helps define my 2013 season. So that's an added bonus.
[Click on the photos to view at full size.]
1. Happy birthday to me: one of the problems with having a January birthday is that, after the madness of the Christmas/New Year holiday period, it can sometimes be treated as an afterthought. That pretty much suits me. This cake, as tasty and as appropriately decorated as it was, may not look like a masterpiece and it was thrown together quickly. But it sums me up pretty well…
2. Summer soccer: the first action image to make the cut comes from a balmy Mt Maunganui afternoon when Matamata Swifts (red) took on Hukanui Rototuna (from Hamilton) in a pre-season match. The image defines, to me, the hope of the pre-season.
3. Happy camper: I travelled around many northern region grounds this season and usually had one of my boys in tow. It was great bonding. I love the look on my eldest son Nathan's face at our very first match of the season (Glenfield Rovers v Eastern Suburbs at McFetridge Park).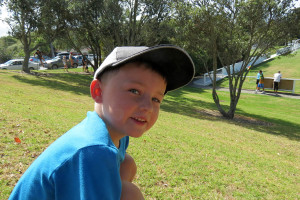 4. Crash, bang wallop: this photo of Hamilton Wanderers' Raymond How rising above countless Waitakere City defenders defined this match. Wanderers won 8-0. It was a hiding, but was not a portent of what was to come for Waitakere later in the season.
5. Night football: I was at the first game of night football to be held at Ellerslie's upgraded Michaels Ave ground. The atmosphere was great and the result, unlike many later in the season, was positive for the home side. I also took one of my more popular movies of the season at this game. It saw a Manurewa defender nudge an Ellerslie attacker, who proceeded to swim for half the length of the pitch before going down. The Manurewa defender was then sent off.
6. Loyal fans: the locals at Ngongotaha's Stembridge Road ground had much to cheer for large parts of the 2013 season.
7. Goooooooal!: if you look closely you can see the football just behind the angle of upright and cross bar. This was the third goal in Western Springs' 3-0 win over Claudelands Rovers at Galloway Park. It was scored by Sam Burfoot, who was instrumental in leading Springs to the NRFL Division 2 title.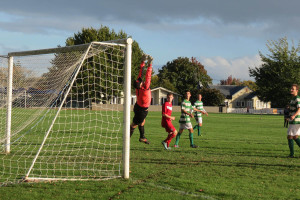 8. Let's dance: it was an up, up and then ultimately down season for Tauranga-based club, AFC Fury. Much has been written of Fury's methods but they were too good for Matamata Swifts when they visited the Matamata Domain during the first half of the season.
9. Double trouble: the Old Blues v Hukanui Rototuna Chatham Cup tie didn't have an awful lot to recommend it, but I did manage to fire off this shot of me and my youngest son, Theo. The shadows were lengthening as winter approached.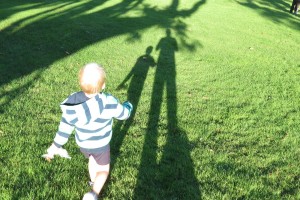 10. It's all on: the Hamilton Wanderers v Birkenhead United match in the NRFL Premier League had much to recommend it. Sending-offs; agro; late goals; good football. It was a fun, if wet, afternoon out.
Click here for Part 2.