A couple of weeks ago one of my boyhood heroes – Steve Sumner – passed away after a battle against prostate cancer.
I guess it was expected (speaking with people who knew him it definitely was) but still, when it came, it was a shock. For me, a central piece of my formative years, not that I was fully aware of it way back then, is now gone.
Looking back, I don't remember having too many idols when I was a kid. There was Martin Crowe and, of course, Glenn Hoddle from Spurs (Hoddle the player…not Hoddle the coach I hasten to add). I suppose my dad was a hero too, given he was left to raise my brother and I, as well as run the farm, when my mum went a bit loopy and decided to leave.
There weren't too many others. Certainly none that stand out now.
I guess I just found it tough to blindly and widely give my adulation to people I didn't know. Without a doubt I'm still like that. I admire people for the things they achieve and the way in which they achieve them, across a wide range of fields, but that's really about it. People are imperfect. Admire and respect them…and leave it at that.
But, as always, there are exceptions.
Sumner, with that moustache and fist pump, was the face of the All Whites team that made it to the '82 World Cup in Spain. As that team made its way through a tortuous qualifying campaign during 1981 I was of an age to be influenced and enlightened. For me, I suppose, that team and all they achieved came along at the right time.
Bobby Almond and Steve Wooddin were my two favourite players in that side, for vastly different reasons. Wooddin's left foot, so crucial so many times, and Almond's tough, no nonsense defending stood out to an impressionable 9/10 year old.
But there was always Sumner. That far post header against Oz. Six against Fiji. The free-kick in Kuwait. Saudi Arabia. China in Singapore. Scotland at the World Cup. So many memories and probably the biggest reason I became a 'football person.'
I never even met Sumner but he came across as the sort of leader I'd like to work with and could easily follow. You could see the players in the '82 team did. You can see that with the many players who followed in later years. You can see it through the tributes that flowed after his passing.
It's tough to be overly sentimental about someone you only ever saw on the TV or at a distance on the football field. It seems Sumner may just have been the exception to my emotionally guarded rule. There's a grey spot still covering a corner of my soul that wasn't there a couple of weeks ago.
Rest in Peace Steve.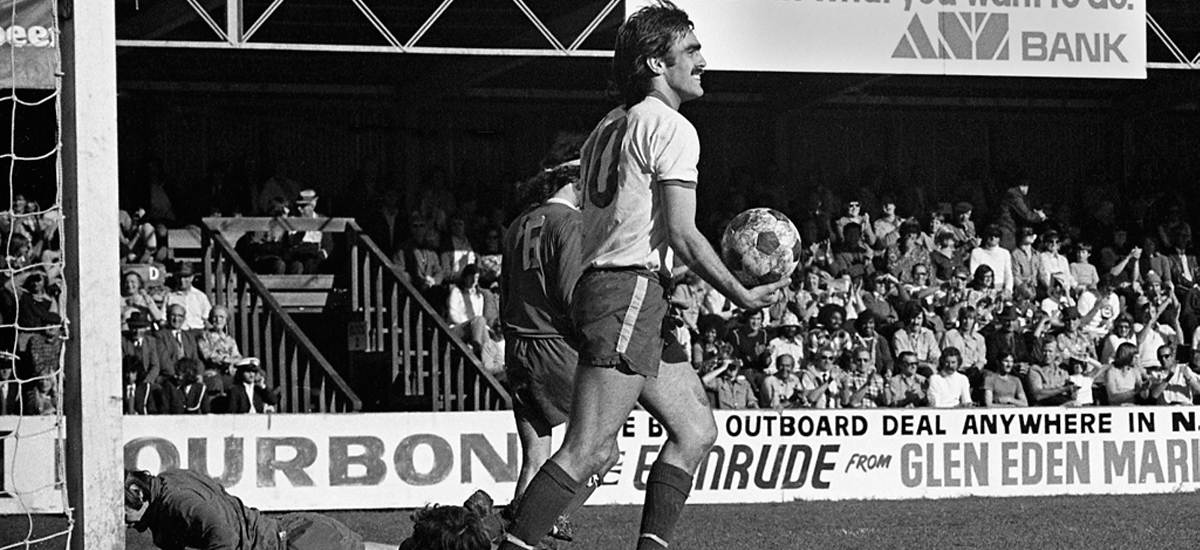 Photo: Dave Barker (courtesy of the Friends of Football website). I love this old school football pic of Sumner in his prime. The ball, the player, the sheer joy of scoring a goal. That's the football I hope my kids grow up to love as much as I do.