I did something a bit different yesterday. Well, it was the same but, yeah, different.
About ten days ago Cambridge FC sent out a mayday for teams to fill up their 7th Grade tournament. I'd looked at it a month or so ago as a chance to see what some of Matamata Swifts' Mini-Kickers players could do, but then asked myself if I wanted to give up my Sunday morning lie in…
When the call came again from Cambridge I decided to test the water. Within the space of an evening I had a team of seven keen 6 and 7 year olds and, equally, a keen team of parents, so the new Matamata Magpies were born.
It loomed as a great opportunity to see what I'd always thought was a good group of Mini-Kickers players could do in a more formalised game situation. As it turned out, they could do quite a bit.
My weekend was already full of football. Saturday was an early one. Mini-Kickers first, followed by the Matamata Eagles first home game since before the holidays (we drew 2-2 without any subs. A great effort from the players against another well organised team). Then I was back at the Domain on a freezing afternoon to take photos of Otumoetai getting away with kicking the sh*t out of the Swifts as they always seem to do.
I spent the afternoon with my hands bent like frozen claws around my camera. So turning up at Cambridge on Sunday on an even colder morning wasn't brilliant. I was still shivering from the day before.
But the players and parents had been at our Matamata Domain meeting point earlier than the scheduled time. I was five minutes early and they were all pretty much there already. That was the first sign that things were a bit different.
The team took a little while to get going in their first game. But once they got the hang of it they were great. The goals went flying in. They got to grips with the idea of defending. They even pulled off some tidy little passing moves.
We played three group games that were pretty much organised versions of the pick-up games kids played in between times. It was something else to watch the players take charge, organise teams, lay down some basic rules and just play football for fun.
Leadership. Self-responsibility. Confidence. We've got some parents who have done a really good job with their kids.
The Magpies made it all the way to the final. We played the Eastlake Geckos from Rotorua, who the Magpies had beaten 3-2 in the group stage. They looked to be a well organised team who play together regularly so were an excellent test for the Magpies' raw recruits.
The final didn't go our way. The Magpies were clearly tuckered out after a big day of football, and the Geckos got us from a set-piece and a couple of second half counter-attacks. The noise from the fans of both sides was big time. It was louder than the first team game at the Domain the day before. That and a day of constantly shaking in the cold left me struggling to even think. I reckon I may have messed up a couple of our substitutions, which in the end wouldn't have made much difference I don't think.
We got the final goal of the tournament, another first time finish, and the Magpies competed right to the end, which was so, so pleasing to watch. There were tears at the final whistle, but they soon disappeared when the kids found out they'd be getting medals.
Driving home with a son still playing with his silver medal had me savouring the rewards of being a coach of young players. And being a parent. I reckon I was about as knackered as the kids, but it was that happy, glowing sort of knackered you get after a rewarding experience.
I loved it. Judging by their smiles, so did the kids. And that's all that matters, really.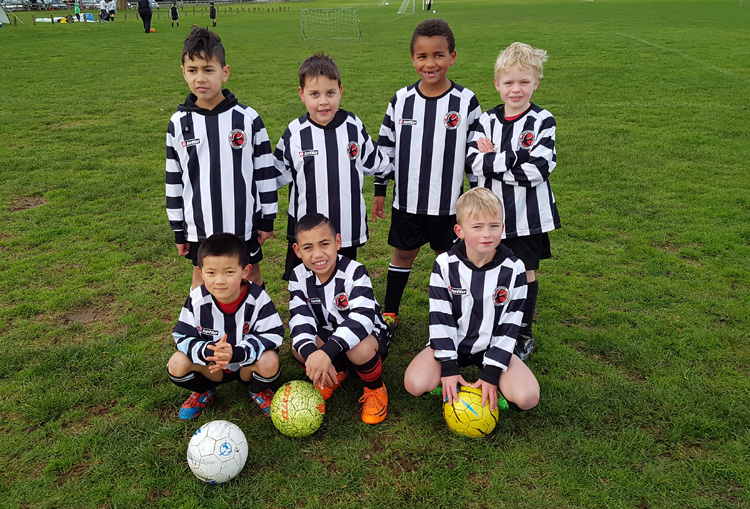 The 2016 Matamata Magpies: look out for some of these faces in the future.